A look back at 365 Talent Portal's year in 2018

As we near the end of 2018, we wanted to share with our community of Microsoft Partners, Dynamics 365 users, consultants, trainers, students, graduates, employees, investors and pretty much any stakeholder what we've been up to this past year as well as let you know a little bit about our plans for the future.
COMMUNITY: Dynamics Consultants, Trainers, Students & Graduates
We have grown our Consultant members by 31% this year to 7,300 registered Dynamics 365 Consultants on our platform
Mentorship program with MVP Don Riggs – we launched a mentorship program to help individuals interested in Dynamics 365 start their career and gain recognition.
CLIENTS: Microsoft Partners & Dynamics 365 Users
Recruitment – we helped hundreds of companies hire Microsoft Dynamics Consultants in 134 countries around the world
Dynamics 365 Trainers – we have delivered 95 training workshops in 24 countries
Earlier this year we introduced monthly payment options for our Silver and Gold Memberships
We've also been building a plan to improve our platform features and to bring in more services in 2019
PARTNERSHIPS: Microsoft &Adobe
More work with Microsoft – we are working together on multiple training and content initiatives around the world
Adobe: we're partnering with Adobe to pilot offering Consultants access to free Adobe Marketing Cloud training
MARKETING: Website, Resources and more
We're currently working on creating a new website with more functionality, information and resources for our community and visitors
And we're working on creating a lot more content for Dynamics 365 users, students, graduates, consultants and partners
EVENTS: Dynamics 365 for Talent, Partner Incentives, eXtreme365, Inspire and beyond
Teaming up with Johan Jonsson, Dynamics Incentives Lead at Microsoft we delivered a webinar on how Partners can make the most of their incentives
We also ran a Dynamics 365 for Talent webinar delivered by Lydia Williams, Senior Product Marketing Manager at Microsoft
eXtreme365 – Steve (our COO) and Elena were invited to present at eXtreme365 in Dubrovnik and Austin, USA and ran a number of workshops & sessions on recruitment & resources
Microsoft Inspire Conferences in Las Vegas – we were delighted that Elena was featured in the opening keynote in front of thousands of Partners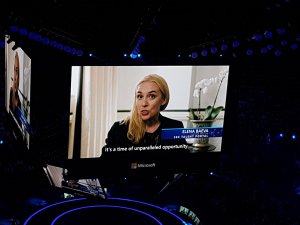 ELENA'S ACHIEVEMENTS: IAMCP & The WIT Network
International Association of Microsoft Channel Partners (IAMCP) – we are delighted that Elena (our CEO) was invited to join as a Board Member in the UK chapter
The Women in Technology Network (WIT) – Elena is also on the UK Board and is very excited about inspiring more women to join our sector
INVESTMENT: Internal & External
Investment – we are growing in USA, if you're interested in more info about our investment, let us know by emailing us at info@365talentportal.com
We've been growing our team and have taken on three new hires this past year
There are plenty of other exciting projects and initiatives going on as we're expanding, transforming and picking up some serious momentum and we'll report on those as they approach.
If you're interested in getting in touch or staying in the loop, we're very active on our social channels too
365 Talent Portal on LinkedIn
365 Talent Portal on Twitter
365 Talent Portal on Facebook
Subscribe to our Dynamics 365 Newsletter
Stay up to date with Microsoft Dynamics 365 events, webinars, news, jobs, articles and more by subscribing to our Newsletter.
365 Talent Portal is the Microsoft Dynamics platform that "has developed the right model to meet today's demands with openness, transparency, and a focus on adding value."
Thousands of Consultants have joined us for free Dynamics online training and great jobs. For your Dynamics staffing needs visit 365talentportal.com
Email info@365talentportal.com. Call us on +1 415 800 4263 (USA) or +44 2071 931 455 (UK)
<< Looking for Dynamics 365 user guides? Check these 2 great websites
How to attract Dynamics 365 candidates - 5 step guide >>
What are you looking for?
Choose another language?
Sponsors
Categories
Archives